Today marks the first anniversary of the targeted assassination of our comrades Jiyan Tolhildan, Roj Xabûr and Barîn Botan. They were killed by a Turkish drone on their way back from a Women's Forum that was held in Qamishlo to mark the occasion of the 10th anniversary of the Women's Revolution in North and East Syria.
Since 2020, the Turkish state has systematically used armed drones to assassinate those who play an important role in the women's revolution in North and East Syria. The first of these happened on June 23, 2020, when a Turkish drone killed three members of the Kongra Star women's movement: Zehra Berkel, Hebûn Mele Xelîl and Amina Waysî in Helinç near Kobanê. Since this targeted assassination, Turkey has been systematically and deliberately launching drone attacks against the people living in the Autonomous Administration of North and East Syria.
In 2022 alone, a year with no territorial offensive, 130 drone strikes were carried out by the Turkish state. Eight YPJ members were killed through these assassinations in non-combat situations. Throughout the fight against ISIS in North and East Syria, all the women who were targeted were highly revered in for their participation in various battles against ISIS and played a crucial role in ensuring the safety and security of the region. They defended the women's liberation.
Our brochure "Turkey's War Against Women Fighting ISIS – Documenting Turkish drone assassinations of YPJ members in 2022" gives a record on the attacks against our members who were targeted due to their strong resistance and struggle for freedom.
The targeting of YPJ members is part of a wider strategy of the Turkish state, through assassinating those who protected us all from the barbarism of ISIS. YPJ, YPG and the SDF have paid the defeat of the so called "caliphate" with the lives of 11,000 fallen comrades. We gave these sacrifices with the full knowledge that fighting the terrorism of ISIS does not just protect Rojava, Syria and the Middle East, but the whole world. Attacking those who are in the frontline against ISIS is therefore directly supporting the ongoing resurgence attempts of ISIS.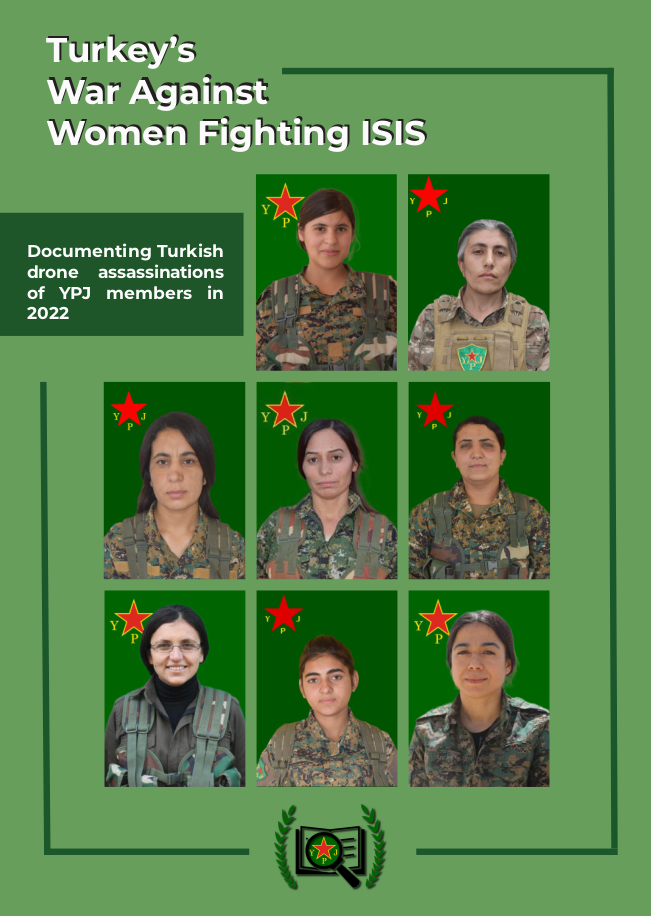 You can read and download the brochure here.