Today marks the 24th anniversary of Abdullah Öcalan's abduction and imprisonment in Turkey. For 24 years, he has been held on the prison island of Imrali in solitary confinement. His abduction was carried out by various secret services and began with his forced departure from Syria on October 9, 1998. After leaving Syria, his odyssey led him to Russia via Athens, then to Italy and finally to Nairobi, Kenya. There, Abdullah Öcalan was arrested and brought to Turkey. The aim of his arrest was to end the struggle of the Kurdish people for a life in dignity. Until today, the ideas of Abdullah Öcalan have been discussed in many universities, by intellectuals, sociologists, journalists, and revolutionaries around the world. Moreover, Abdullah Öcalan was accepted by Kurdish, Arab, Assyrian, Armenian, Persian people, and many other ethnic groups as representative and guarantor of a democratic solution in the Middle East. His philosophy was put into practice in the Rojava Revolution in North and East Syria, where a social contract was built on the pillars of women's liberation, grassroots democracy, and ecology. Worldwide, people see him as the most important partner in the dialogue for a peaceful and political solution to the Kurdish question. As Women's Protection Forces YPJ, our foundation has been rooted in the philosophy, work and values that Abdullah Öcalan created. Therefore, we want to shed light onto Öcalan's efforts that led to the creation of YPJ, and to unpack the international complot against him, which ultimately put him in prison, with the Turkish authorities not allowing him to meet with his lawyers for more than 4 years until today.
Kurdistan is a colony
In order to properly understand the role of Abdullah Öcalan, it is important to know the history of the Kurds, which is marked by hundreds of years of forced assimilation, oppression, massacres, war and the crushing down of uprisings. With the establishment of the Republic of Turkey in 1923, the annihilation and the denial of the rights of minorities, such as the Armenians and the Kurds, has been actively enforced by the state. In 1949 Abdullah Öcalan was born in a small village in Riha. As a student, he spent his time in Turkish metropoles, especially in Ankara. In 1968 socialist movements were strengthened all over the world and in Turkey, and Abdullah Öcalan met with representatives of various Turkish leftist movements. However, the situation of the Kurds and Kurdistan was taken up by only a few of them. Analysing the reality of his people, Öcalan came to the conclusion that Kurdistan was a colony and therefore a liberation struggle needed to be fought. This is why Öcalan organized a group of students on the basis of socialist principles. This initial group went out into the society to organise political seminars for themselves and the people, and to spread Öcalan's ideas and knowledge. Out of this first group, on November 21, 1978, in Fis/Amed, the Kurdistan Workers' Party was founded.
Öcalan's exile in Syria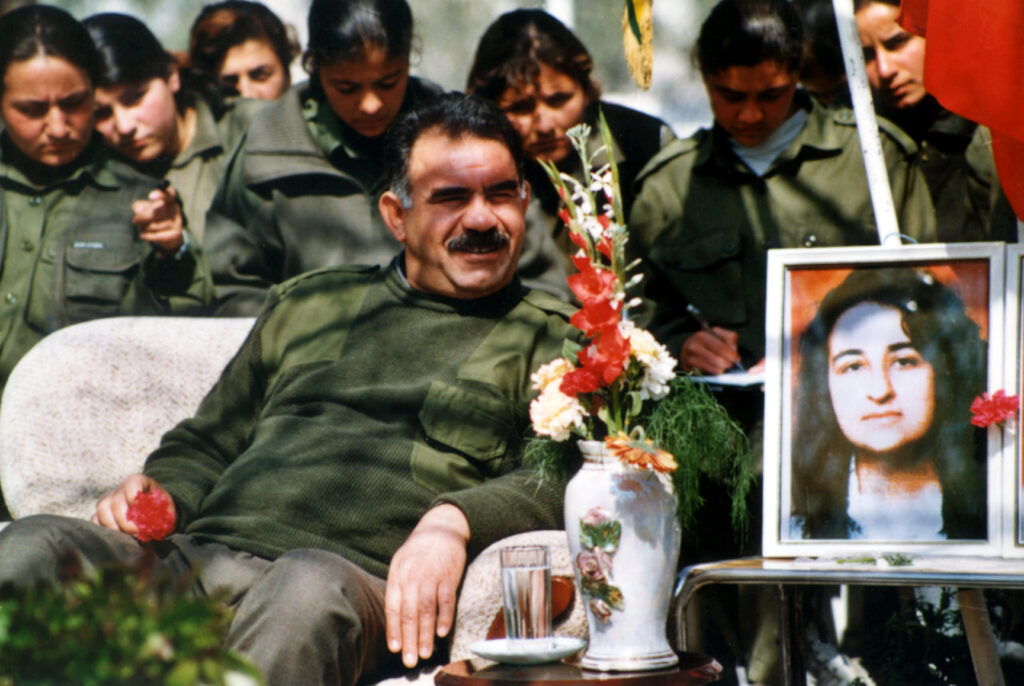 At that time, it was evident that a military coup was imminent in Turkey. In order to avoid endangering the newly established movement, Abdullah Öcalan left Turkey on July 2, 1979, and arrived in Kobanê in western Kurdistan/northern Syria. In total, Öcalan spent 20 years in Syria and Lebanon and tried to inform people of the national question in Kurdistan from exile. In the following years, the situation became increasingly dangerous for Kurds in Turkey. More and more Kurds and political activists were arrested, while systematic torture and assassinations in prisons, and general violence against the Kurdish population became widespread. In order to fight back against these cruelties, the Kurdistan Worker's Party took up the armed struggle in the mountains of Northern Kurdistan on August 15, 1984.
Abdullah Öcalan always placed women's liberation at the center of his philosophy. In many instances, he motivated women to take steps toward their liberation. In 1993 Abdullah Öcalan proposed the creation of an autonomous women's army. When they first heard this, many women had strong doubts about whether they would be able to do this. However, when they implemented Öcalan's proposal, they saw that step by step they could overcome their lack of self-confidence and develop a collective strength. Until today, the Women's Army (YJA-Star) is considered the first experiment of its nature in world history that has reached this level of organization. The women's army aims to give women the spirit with which they can fight against oppression. It is not a tool of oppression but a tool for creating equality, not limited to military activity, but extending to educational and social activities that strengthen women's free will and development.
The ceasefire of September 1, 1998
The Turkish state met the armed resistance with demands for NATO to jointly crush the Kurdish insurgency. At the same time however, the mass base of the movement was growing by the day. Öcalan kept teaching Kurdish history and convincing more and more people of his anti-colonial ideas. In the 1980s, many leaders, revolutionaries, intellectuals, and journalists visited Öcalan in Syria to get to know his ideas and philosophy. On September 1, 1998, at the request of the General Staff of the Turkish Armed Force, Abdullah Öcalan declared a ceasefire. What Öcalan did not know at the time was that the plot against him had already begun. During a tour in the Middle East in the first weeks of September, the Turkish president, Mesut Yilmaz, held diplomatic meetings in Jordan, Israel and Palestine, and increased the pressure on Syria to expel Öcalan. In these talks, secret agreements were arranged on how Jordan's intelligence services could help Turkey crush down the Freedom Movement of Kurdistan and arrest Öcalan. After a meeting of the National Security Council of Turkey, the Prime Minister, Sueleyman Demirel, made the following statement: "Despite all our warnings and peaceful efforts, the Syrian state maintains its hostile attitude. I hereby declare before the whole world that our patience is at an end. We reserve our right to retaliate."
On October 2, 1998, the Turkish military massed troops on the Syrian border near Hatay, Kilis, and Dîlok (Turkish Antep). The Turkish Chief of the General Staff, Hüseyin Kıvrıkoğlu, threatened Syria with war. Attempts for diplomatic mediation by Egypt and Iran took place, and a US warship, armed with Tomahawk missiles, entered the Mediterranean Sea. US troops and warplanes were also transferred to the US base at Incirlik. To prevent war, Öcalan left Syria on October 9, 1998. For Öcalan, this moment left him with two options to choose from: either go to the mountains of Kurdistan, which would have most likely resulted in Turkey attacking there, or head to Europe to pursue a political solution.
The odyssey begins, from Athens, via Russia and Italy, to Nairobi
Öcalan decided to leave Syria for Europe. The plot that had been set in motion had greatly angered revolutionaries and the Kurdish society. Especially prisoners in Turkey's prisons, but also in many other places in the world, used their bodies as a means of protest, self-immolating under the slogan "You cannot darken our sun". By November 19, 1998, alone, 40 prisoners had set themselves on fire in protest. Self-immolations also occurred in Moscow and Germany. Political prisoner Mehmet Halit Oral, who carried out the first self-immolation on October 9, wrote in his farewell letter: "Without a doubt, Turkey will not take a step back because of my action, but this can make one thing clear to them: Even at the slightest harm that happens to you [Öcalan], all our people will rise up. Because if the world is talking about us today, we owe it entirely to your great effort and endeavours."
Once in Europe, Öcalan first went to Athens, to where he was lured with false promises, but had to leave the same day. Following an invitation from Duma president Vladimir Zhirinovsky, he travelled to Russia. From that moment on, Öcalan was under NATO surveillance at all times. Every country Öcalan approached immediately came under diplomatic pressure from Turkey and NATO. After a meeting with the Russian Foreign Minister Igor Ivanov, the Turkish Chief of General Staff Hüseyin Kıvrıkoğlu, expressed himself as follows: "If Moscow is smart, it will not support Apo. We have investments there worth tens of billions of dollars. While Europe is fleeing Russia because of the economic crisis, we are continuing our work. We want these relations to develop." After just 33 days, Öcalan's stay in Russia ended. His odyssey took him to Rome, where he arrived on November 12, 1998.
The chance for a political solution in Italy
Italy was the second country after Greece, which was a member of NATO as well as the EU, where Öcalan hoped to find a chance for a political solution to the Kurdish question. In the background, a political tug-of-war began between the governments of Italy, Germany, and Turkey over the extradition of Abdullah Öcalan. Meanwhile, Abdullah Öcalan applied for political asylum in Italy but Turkey had already issued an arrest warrant for him in 1982 and continued to demand his extradition. There was also an arrest warrant from Germany, where Öcalan had been charged with suspicion of involvement in the killing of a Kurd in Germany and of being the leader of a terrorist organization. At the same time, the Kurdish society reacted, and actions took place for months in the square in front of the military hospital where Öcalan was under house arrest. This led to the Piazza being renamed "Piazza Kurdistan". Kurds from all over the diaspora came to Rome to show their solidarity. On November 16, 1998, Italian Prime Minister Massimo D'Alema issued a statement saying that Öcalan would not be extradited to Turkey because Italian law forbade extraditions to countries with the death penalty. Until today, Abdullah Öcalan has left his imprint in Italy with many Italian cities giving him honorary citizenship.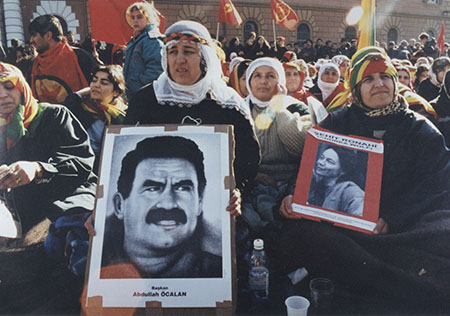 Meanwhile, nationalist hostility against Kurds was intensifying in Turkey. Thousands of Kurdish villages was burnt while massacres and escalating violence were spreading quickly. People were lynched in the presence of the police because they were Kurds. Posters were hung in Turkish shops saying, "No Italian products sold here." The climate in Turkey became increasingly fascist. Turkey's open political threats were increasing also against Italy, with Turkish Foreign Minister Ismail Cem saying, "We have often prevented the flow of refugees towards Italy in the past. But because of the attitude of the Italian government, it seems difficult to keep them under control."
Exit to Kenya
A few days later, the Turkish newspaper "Milliyet" published the news of the assassination of the Russian reformist politician Galina Starovoytova on its front page, writing: "Warning to Italy", "The Russian supporter of Öcalan was executed". Turkey was fighting with all the means possible for the extradition of Öcalan. The German state cancelled its arrest warrant, which had been active for 8 years, without any apparent reason, just commenting that Öcalan was like a hot potato, anyone who touched him would burn their fingers. The situation in Italy remained difficult and on November 28, the Assistant to the President for National Security Affairs of the US, Sandy Berger, urged Italy to extradite Öcalan to Turkey. At the same time, Italian Foreign Minister Lamberto Dini and German Foreign Minister Joschka Fischer met to plan how to take Öcalan to court. This led to diplomatic confrontations with the US and finally ended in Germany backing down from the solution of the Kurdish question in Europe. After a meeting of the Organization for Security and Co-operation in Europe (OSCE), Fischer announced that it was not possible for Italy and Germany to establish a jurisdiction for Öcalan. It became more and more obvious that, due to the pressure of Turkey and its NATO allies, any chance for a peaceful solution through dialogue with Abdullah Öcalan was destroyed and that the only aim was his extradition.
Finally, Öcalan was forced to leave Italy and, after a stop in Russia he was made to board another airplane in Athens. This airplane was organized by the CIA/NATO and took him to Nairobi/Kenya, a destination which was unknown to Öcalan before the plane took off. Many statements and testimonies speak for themselves: from the moment Öcalan entered European soil, there never was a real chance of solving the conflict over Kurdistan in a political and peaceful way. On February 15, 1999, Abdullah Öcalan was abducted from the Greek embassy in Nairobi/Kenya in a joint operation of MIT, CIA and MOSSAD and handed over to Turkey.
The second part of this article will continue with the Rojava Revolution and how the foundation of YPJ was rooted within Öcalan's paradigm.