The brave women of this motherland are showing their commitment to the values of the revolution by joining the ranks of freedom. Our friend Lina Elo, nicknamed Ezda Berxwedan Cudi, was always guided by her heart and mind to build a free and equal life from all the injustices of the capitalist modernity system. On this basis, she joined the ranks of YPJ from the city of Afrin at a young age. The culture of loving the values of the land in which she grew up played a decisive role in shaping the personality of Comrade Ezda. Ezda's brother, Aslan Qandîl, joined the caravans of the immortals in the historical resistance of Kobanê, and she considered following the cause of the martyrs as an essential measure of her life.
Comrade Ezda followed her childhood dreams with her young spirit in the struggle for the country's freedom. She has always continued to raise the struggle and resistance for her love of free life. As a young woman in the ranks of freedom, she was always a source of morale and enthusiasm for her environment. Hard work and sacrifice were the concepts that define Ezda's personality.
The saying 'The most beautiful women in the world, fighting against the most cruel men in the world' was true in its true meaning thanks to companions like Ezda. Our comrade Ezda fought against brutal gangs in the fight against ISIS, in the liberation of Raqqa and Deir Ezor. In order to save his people and women from the tyranny of ISIS, she took her place in the front lines with great strength and faith. Comrade Ezda had a deep understanding of the policies of genocide, persecution and occupation of hegemonic forces. Because of that, in the freedom march, the cause of people's freedom is up to its essence and finally represented the line of free life.
Our friend Ezda, while on duty, was involved in a traffic accident on August 9.
The young souls who are committed to the cause of people's freedom, our hope, are brightening the future. Our comrade Ezda is one of those friends who expresses the spirit of continuing the revolution. First of all, we would like to express our condolences to the dear family of our friend Ezda and all our patriotic people. We will always be followers of the cause of the martyrs and keepers of our promise as a partner to build a free country
The identity information of our comrade are as follows: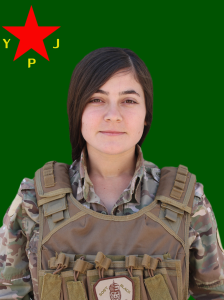 Alias: Ezda Berxwedan Cûdî
Name and surname: Lîna Elo
Mother's name: Wesfiye
Father's name: Hikmet
Place and date of martyrdom: 09.08.2023 / Tabqa
Fermandariya Giştî a YPJ'ê
12.08.2023