The Rojava Revolution created the system of democratic modernity in which true unity between the people is lived. Kurdish and Arab women within the ranks of the Women's Protection Units are fighting side by side, protecting and developing the revolution.
Young women like Reem Ali Al-Jassim chose to make a difference and joined the ranks of the Women's Protection Units with the aim of achieving freedom for their homeland. Our comrade Reem joined our ranks with young age and with a strong belief in the cause of people's freedom. She followed the footsteps of martyrs like Hebun Arab and Rojbin Arab and was an advocate of the paradigm of a democratic nation that unites all peoples and identities. Comrade Reem took her place in the ranks of the Women's Protection Units, participating in the creation of a free life. She became a true defender of the liberation struggle.
Understanding her responsibility, she put her life at the service of the revolution and the freedom of the people. In her time within the YPJ she developed her personality based on revolutionary principles and became a brave and loyal fighter.
Our comrade, Reem Ali Al Jassim, was martyred in a traffic accident on August 20 of this year, while carrying out her revolutionary duties.
We, as the Women's Protection Units give our promise to all those who took their place within the revolution to preserve and protect the values and principles of a free homeland and a free life. Our friend Reem was committed to victory and always fighting for a free life.
We express our deepest condolences to the family of our dear comrade Reem, to her relatives, and to all freedom loving people. As Comrade Reem's friends, we will always protect our land by strengthening and raising the level of Kurdish and Arab women's unity.
The identity details of our comrade Reem as follows: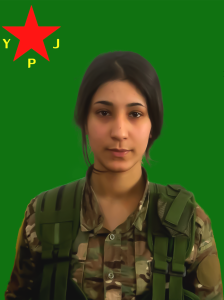 The nom de guerre: Reem Ali Al-Jassem
Name and surname: Reem Ali Al Jassim
Mother's name: Amira
Father's name: Ali
Place and date of martyrdom: 08/20/2023
YPJ General Command
22.08.2023