Women and the Youth are the vanguard of the Rojava Revolution in North and East Syria; they protect the social values that the democratic movement has created. Thousands of women and young people joined the ranks of freedom, all with the goal of becoming a leading force in developing and protecting the women's revolution.
Our comrade, Jaklîn Ehmed, also known as Nejbîr Zagros, is from the city of Kobane. A city known for its strong and successful resistance against ISIS. Kobane's historical resistance inspired a generation that carries the values of freedom. Our comrade Nejbîr is one of those young women who was conscious of her national identity as well as the historical significance of resistance that her home town carries. Because of this, she decided to join the ranks of the YPJ in 2020.
Although she was a young comrade, Nejbîr was very knowledgeable about the history of freedom struggles. She was always keen to fight against all attacks on her people and her land. Comrade Nejbîr developed her personality on the basis of the criteria of a free life rapidlt and took an active place in our units. She developed her skills both in the field of military tactics and political education. After having gained a deeper understanding of her role within the revolution, she joined the Anti-Terrorism Units (YAT) in order to combat all kinds of terrorist attacks.
Comrade Nejbîr Zagros was martyred in an accident that occurred on the fifth of July. First of all, we express our condolences to the family of our beloved Nejbîr Zagros and, consequently, to all our freedom-loving people. We will always continue our struggle to build a free individual and a free society.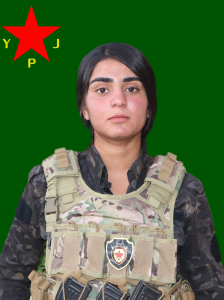 YPJ General Command
22.07.2023