The fight and resistance of our people is becoming stronger everyday through the defense and reinforcement of the revolution. Our people, who give so much for every stretch of land, with the pure heart of a child, courageously contribute to the revolution. Despite the Turkish occupation, our people of Afrin never lost their enthusiasm for the revolution and, in face of all the genocidal politics, they are committed to the freedom and autonomy of the country.
Our comrade Yasmîn Îbrahîm (nom de guerre; Avaşîn Zinar) grew up in a family with patriotic values in the city of Afrin. The patriotism of her family influenced her from young age and had a a deep impact on her choices and interests. She was looking for the answer to the question "how to live?" and she found it in the revolutionaries' stories. She finds her place as a young woman in the ranks of YPJ, and she took the decision to join the ranks of freedom.
At every moment of the struggle, Avaşîn's determination could be recognized. She constantly educated herself on women's liberation with great commitment, loyalty and faith. With a deep spirit of sacrifice she made a huge contribution to build up a democratic and free system. With her personality she fulfilled all the duties and responsibilities that the revolution put on her shoulders, without a single instant of doubt. She became an exemplary revolutionary that history will never forget.
On the 27th of October, our comrade Avaşîn, became a martyr whilst on duty. First of all, we would like to express our condolences to the dear and honorable family of our comrade Avaşîn and all our patriotic people. Our connection with the martyrs is one of the most important sources of our philosophy of life. Our martyrs are the torches that illuminate our path in the struggle for free life. We will fulfill all the dreams of our martyred comrades and in her name, we will follow the cause of all the martyrs of people's freedom
The identity details of our comrade as follows: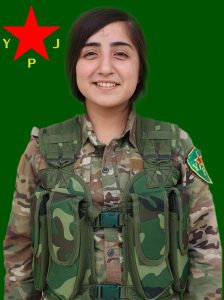 The nom de guerre: Avaşîn Zinar
Name and surname: Yasmîn Îbrahîm
Mother's name: Mewlude
Father's name: Welat
Place and date of martyrdom: Sheddadi -27.10.2023
YPJ General Command
22.08.2023